your trusted & local home improvement service
At Scotts of Reading we are dedicated to providing a wide range of professional services in the home improvement industry. Whether it be replacing your current conservatory roof with the Guardian Warm Roof, having a Bespoke Garden Room supplied and installed, or even building a new single or double storey home extension, we are the company for you. We are also a leading company in the supplying and fitting of high quality uPVC or Aluminium Double Glazed Windows and doors in and around the Berkshire area.
Get a quote today - click here to get in touch
GUARDIAN EXTENSIONS
Transform your home with a Next Generation Home Extension using the most advanced, energy-efficient building system available, to create a comfortable and affordable living space. Guardian extensions are fabricated off site and then delivered and erected within two to three weeks, avoiding the chaos and upheaval of having builders on site for months on end.
The Guardian extension provides a spacious, open-plan extension to your home using cutting edge construction techniques. Your new extension will be comfortable and warm with outstanding energy-efficiency with a U-value of 0.10 W/m2K, it is the most energy saving home extension available.
GUARDIAN HOME EXTENSIONS
Guardian extensions are individually tailored to suit your needs. By combining Kingspan Tek-Panels with the Guardian Warm Roof System, you can truly revitalise your home, creating a beautiful, elegant working, relaxing or entertaining space.
Being of modular construction, Guardian extensions come with insulated roof and walls, double-glazed windows and strong, steel-reinforced structures, and are an affordable alternative to a traditional brick-built structures. We can match your existing brick, render or stone walls as well as the roof tiles, so the completed room matches the rest of your house.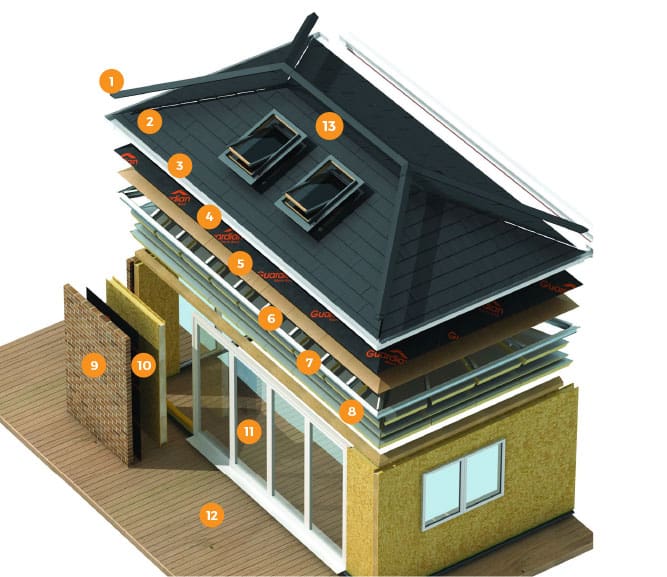 A UNIQUE AND INNOVATIVE EXTENSION SOLUTION
Ridge Cappings to match roof tiles or slates
Choice of roof tiles or slates
Standard rainwater systems
Breathable Guardian waterproof membrane
Exterior grade plywood
Structural pre-engineered frame
Ventilated roof eliminates condensation
3 layers of high performance rigid Kingspan insulation board (125mm) U-value 0.18 W/m.K (England & Wales) and 0.15 W/m.K (Scotland)
Choice of external finish
Kingspan TEK Building System
Internal flooring
External flooring
Velux Roof Windows (Extensive Range)
WHAT ARE THE ADVANTAGES OF GUARDIAN EXTENSIONS?
Pre-assembled, factory-engineered modular construction provides superior build quality
Outstanding energy-efficiency with a U-value of 1.0 W/m2K, these are the most energy saving home extensions available.
Faster modern methods of construction – two to three week build programme with zero on-site waste
A wide range of colours and finishes available
Bespoke design service – we work with you to advise, recommend and design the best solution for you
Accelerated planning approval
Technical support from start to finish
Fully guaranteed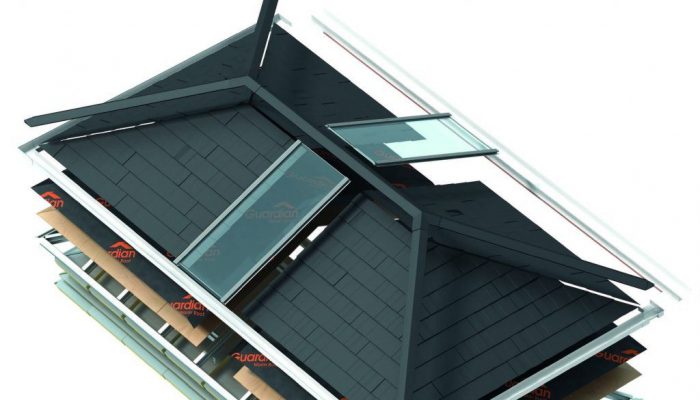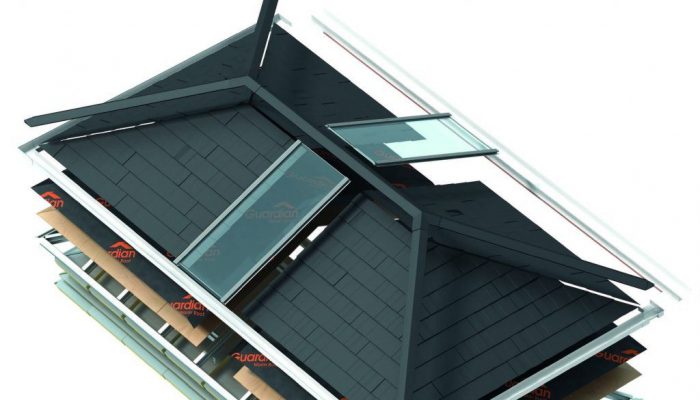 OUR LATEST INNOVATION TO THE GUARDIAN WARM ROOF
The Solstice Skylight system allows you to not only create a beautiful extra living space you can benefit from all year round, but a space which is now flooded with natural light, making it the most popular room in the home. Bring light to your life and enhance your wellbeing.
If you are looking to replace your existing glass or poly conservatory roof or even looking for a new roof extension, then look no further. The Solstice Roof will compliment any guardian replacement roof or new home extension and enhance your life by adding valuable light.
SIP PANEL EXTENSIONS
SIP PANEL EXTENSIONS
A Structural Insulated Panel (SIP) is made from a sandwich of two layers of stressed skin and one layer of insulation. The stressed skin layers make it exceptionally strong, whilst producing thinner overall wall thicknesses than other forms of construction. With no need for cavity or internal insulation, structural insulated panels can provide a very fast way of constructing very efficient walls with u-values as low as 0.15, without additional insulation.
SIPs are a very flexible product and can be used with any external cladding, be it brick, render, weatherboarding or metal cladding. Equally they can be roofed with slates, tiles or metal roofing. Internally they can be simply finished with plasterboard and a skim coating (with service cavities where needed) meaning that wet trades are kept to a minimum, speeding up build times even further. They are suitable for new builds and home extensions as well as being ideal in-fill panels between other structures like steel or oak frames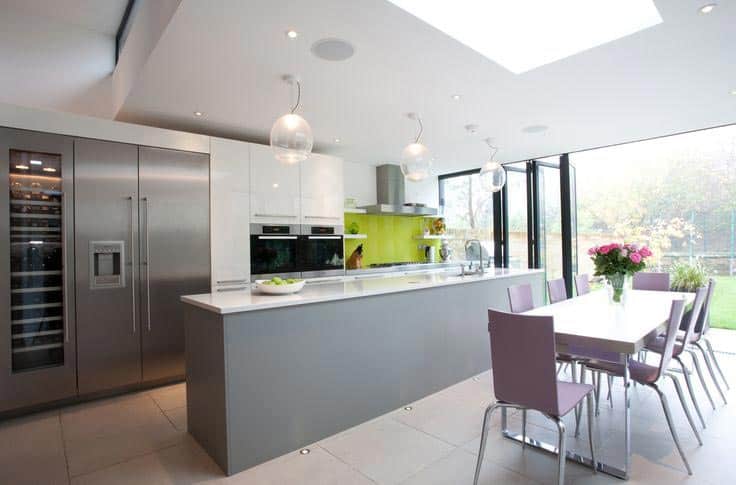 SIP PANEL EXTENSIONS
A Tried & Tested Solution
SIP Panel Extensions were first developed in America in the 1930's and have been widely-used in the UK since the 1980's. They have a proven track record of performance and testing, and have a C.A.T.G. SIP Mark Scheme. The Building Research Establishment, an independent testing body, have produced an Information Paper (IP 13/04) on structural insulated panels and have conducted testing on SIPs on behalf of the Government and insurers.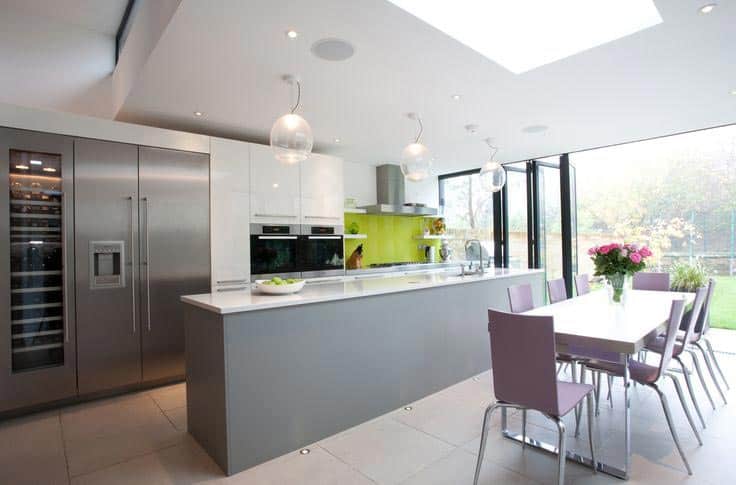 SEE IT FOR YOURSELF!
Watch our timelapse video review
Watch the video below of a how the Guardian Warm Roof and Kingspan Tek-Panel products are used to construct a single storey extension within just 3 weeks from start to finish.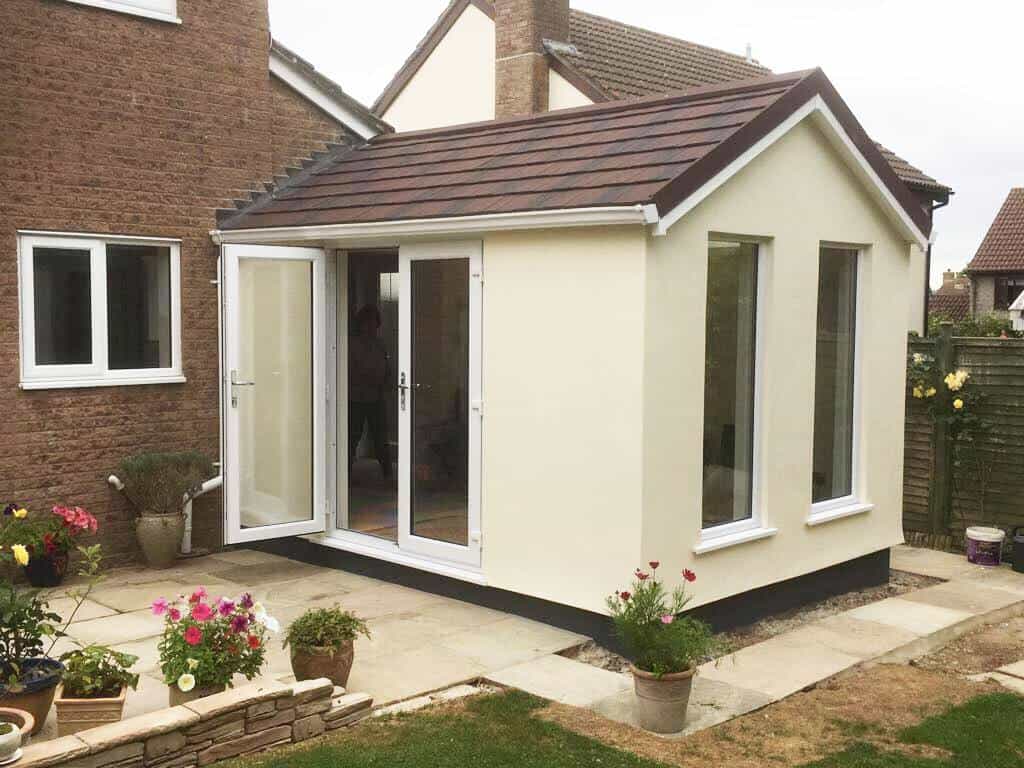 PEACE OF MIND
With the Consumer Protection Association
We provide a 10 year guarantee on every SIP panel extension that we install. Through Consumer Protection Association we also provide a 10 year insurance backed guarantee.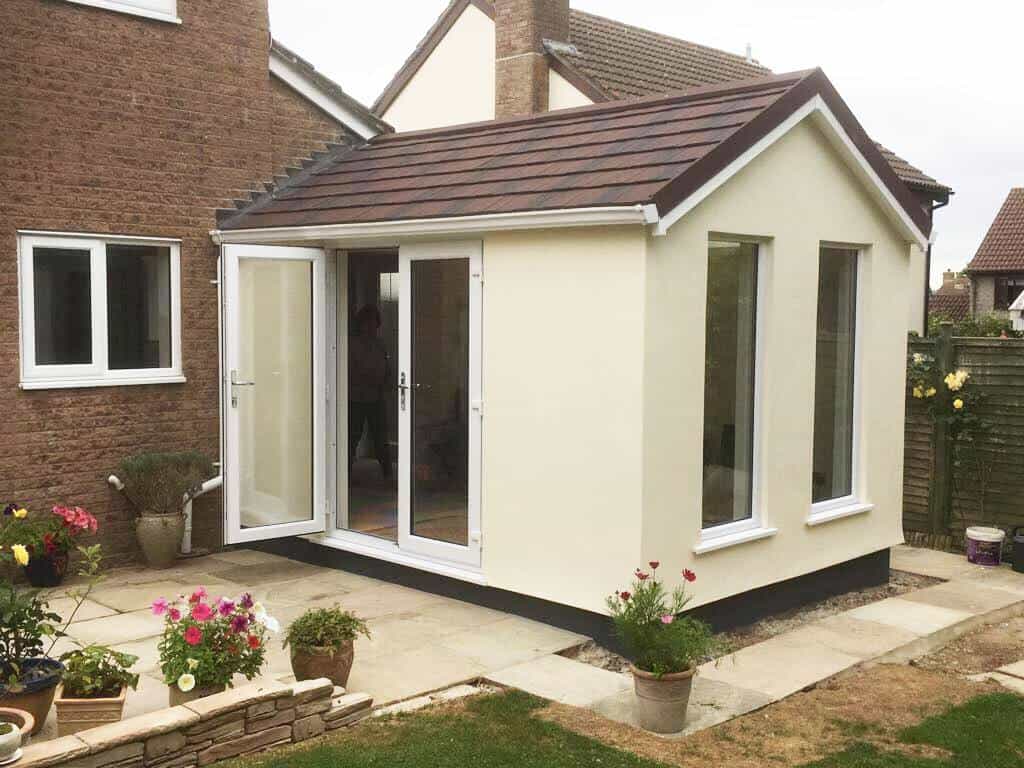 ORDERING FROM US
Professional fitting is crucial
We supply and install SIP Panel extensions throughout Berkshire. All of our engineers are approved to install the Guardian Warm Roof system and Guardian Extension Berkshire is also approved by Guardian to install their specialist panels.
SIP PANEL EXTENSION EFFICIENCY INFORMATION
Our extensions utilise the Kingspan TEK® Building System for the walls, which has environmental sustainability at its core. All of the components for a typical extension, e.g. panels and ancillaries, come from one source. Therefore there are fewer deliveries, less transport congestion, noise and traffic pollution, which reduces a project's impact on the environment. In addition, a project will create minimal site waste, as kits are designed, cut and palletised in a quality controlled, factory environment.
The insulation layer is not interrupted by repeating stud work, so there is less repeating thermal bridging, yielding better thermal performance. The SIP panels are certified to BES 6001 (Framework Standard for the Responsible Sourcing of Construction Products) as `Very Good'. The insulation core of the panels is manufactured with a blowing agent that has zero Ozone Depletion Potential (ODP) and low Global Warming Potential (GWP).
ROOF EFFICIENCY
For roofs we use the Guardian Warm Roof system, which is fully tested and approved to all thermal and structural standards. This high performance insulated roof system comprises of a pre-engineered lightweight frame, two layers of rigid insulation board, internal insulated plasterboard, exterior grade plywood and a vapour membrane. Altogether this creates a thermally efficient living space; keeping the warm air out in the summer and preventing the heat from escaping in the winter thus saving the amount of heat energy required to keep the room at an ambient temperature.
COMPLETE CONSTRUCTION EFFICIENCY
Finished constructions produce a superior U-value of just 0.16 W/m2.K with a total wall thickness of 275.5 mm. To achieve an equivalent U-value using traditional methods of construction the wall would have to be 453 mm thick. Thermographic imagery on completed roofs has demonstrated 100% thermal reliability and continuous insulation, with:
• No cold bridging
• No condensation risk
• No interstitial moisture risk
GUARDIAN EXTENSIONS GALLERY
The Guardian Roof comes in a number of different conservatory styles and we can offer a solid roof solution for virtually any shape or size. By combining Kingspan Tek-Panels with the Guardian Warm Roof System, you can truly revitalise your home or business, creating a beautiful, relaxing entertaining space or business working place.
GUARDIAN™ ROOF KEY INFORMATION
THE GUARDIAN™ ROOF
The lightweight, insulated Guardian™ roof system was designed and developed over a ten year period and with one purpose – to replace the typical glass or polycarbonate roof that was used in the construction of most UK conservatories.
The main focus was on the dynamics and performance, however the overall weight of the replacement roof, which needed to be installed onto the existing conservatory windows, doors and frames was always a big priority. During this period extensive tests were carried out both for compliance and approval to very vigorous structural and thermal standards. The result is not only a brilliant product but a very practical solution, one which has been the biggest home improvement.
A BIT ABOUT US?
Scotts of Reading are a long established company who are large enough to cope but small enough to care. Over thirty years experience enables us to give you the very best possible advice, be it a single window or a brand new conservatory. No job is too big – or too small. Our customers will receive a professional hassle free service from first point of contact to the signing off of an installation. We are proud of the many happy customers we have, and by far and away our biggest lead generator is via recommendations.
Our ethos has always been to improve the standard of living for our customers, and we do this by delivering great products combined with a customer service that we consider to be second to none. Established for over thirty years we have provided our loyal customer base in and around Berkshire with windows, conservatories, doors, facias and soffits and very recently the Guardian Solid Roof. Without doubt solid roofs are becoming more and more popular and Guardian lead the way.
HELP AND SUPPORT
The result of all the research and development is not only a brilliant product, it's a very practical solution and one that home owners all over the UK are now enjoying. In fact, the Guardian™ Warm Roof is possibly the biggest revelation to hit the home improvement market for years.
As you would expect from the suppliers of a brand new leading product, we are able to offer a full supporting back-up service and assistance with any questions or issues you may have. From building control approval, right through to the full installation procedures, we are here to help provide the answers and information you need.
Thousands of conservatories in the UK have been transformed into home extensions thanks to Guardian's™ replacement warm roof and on top of that many new conservatories are being specified with our lightweight, insulated product. It really is a win-win situation, home owners get a more comfortable environment and lower heating bills. What are you waiting for?
Call us or fill out our contact form and we will get back to you with the information you're looking for.